~ WELCOME ~
Please make yourself comfortable and take some time to wander around the site. Hopefully there's something you'll find interesting!
As always, I love to hear from you! Whether it's a Shout Out in the box to your right or a message from the CONTACT page, I'll do my best to answer!  Don't forget to sign up for the New Release Newsletter [on the Right].  That's the fastest way to be informed when a new books is being released!
~ THE CURRENT BOOKS ~
Click on either photo to learn more about the books in that Series ~
~ WHAT'S  NEW ~
NOVEMBER  2015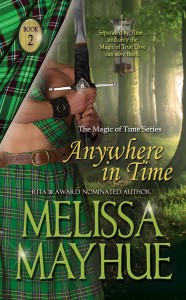 The good news is that the next in the Magic of Time series, ANYWHERE IN TIME, is finally available!!  At least in ebook, it is.  For my print readers, it will still be three to four weeks before the print copies are available.   I'll be sending out a newsletter to announce when those copies are ready for purchase.   If you haven't already signed up for my New Release Newsletter, now would be an excellent time. I don't bombard you with email, I promise. I only send out the newsletter when there's something to benefit you…like a New Release! The box to sign up is at the upper right-hand corner of this [and every] page.
In the meantime,  if you prefer to read an ebook, you can get your copy now at the following links:
I'm getting lots of questions about more Daughters of the Glen books. This new series, The Magic of Time, IS a continuation of the Daughters books. Characters from the first in the Magic of Time series, ALL THE TIME YOU NEED, will show up in the one I'm working on now. AND… remember Cate Coryell from THIRTY NIGHTS? Well, you're going to meet her parents in ANYWHERE IN TIME, so, as I said, it's all connected [and getting MORE connected with each book!]. There are other favorites you'll see in this one, too… a young version of Ian from HIGHLAND GUARDIAN, an early glimpse of Dallyn and Darnee…
The first in this series,  ALL THE TIME YOU NEED, it is available in both print and ebook. You can find it at Amazon, B&N, KOBO, and iBooks now.
For those who prefer their stories in print, you can order from Amazon where it's currently listed for $9.99 or through any other bookstore. Be aware that other bookstore may have a higher cost. For example, you can order from Barnes & Noble, where it's currently listed for $12.47.
What's ahead for the remainder of 2015?
If all goes well, the second book in the Chance, CO series – SECOND CHANCE AT LOVE – should be out by mid – 2016.
In between the Magic book and the Chance book, I'm slipping in a new project, one I'm totally excited about. [So many books to write…so little time!] I've been invited to write one or two of the books in the continuing Ghosts of Culloden Moor series. The mastermind of this project, the very talented author L.L. Muir, has invited me to participate in what she calls a Rescue Series, saving the souls of 79 brave Highlanders who died at the Battle of Culloden. Please consider reading the first in this series – THE GATHERING – so you'll be familiar with the premise that all the books will be working from. I also highly recommend all the books written so far in the series – I've enjoyed reading each of them in preparation for writing mine! There's even a Facebook group if you'd like to join in the discussions as the series progresses – https://www.facebook.com/GhostsofCullodenMoor
As always, you can find me on Facebook at my AUTHOR PAGE . Stop by and join in the conversations. And, if you'd like to chat more in depth about the books or the characters – or what others are reading while they're waiting for the next book – there's a special Facebook Group for readers of my time travel books and we'd love to have you join us there. I do check in there regularly to keep the members up to date on what's happening or just to visit and I'm always open to answering any question you have about the books or the characters. You can find the group here if you're interested in joining: MAGIC OF TIME READERS GROUP!!
That's it for now!
~ Melissa