~ WELCOME ~
Please make yourself comfortable and take some time to wander around the site. Hopefully there's something you'll find interesting!
As always, I love to hear from you! Whether it's a Shout Out in the box to your right or a message from the CONTACT page, I'll do my best to answer!  Don't forget to sign up for the New Release Newsletter [on the Right].  That's the fastest way to be informed when a new books is being released!
~ LATEST RELEASE ~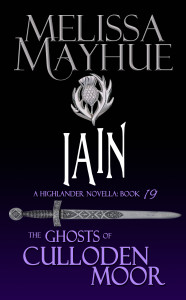 IAIN: A Highlander Romance – Book #19 in The Ghosts of Culloden Moor Series – My first novella [SHORT STORY] since 2012 and my first book in this great series that is the brainchild of the amazing L. L. Muir.
Culloden Moor, Scotland
Iain MacIntosh died at the Battle of Culloden in 1746. Only his desire for revenge has kept him tethered to the lonely moor for the past two hundred seventy years. The time for that revenge, and his ultimate rest, is finally at hand. All that's holding him up is one small task to prove his worth. He needs only to save the life of an innocent. An innocent who complicates his task as if she's been sent by the devil himself.
Toliver Mine, Colorado
Sallie Addison has just about given up on men. But she has learned something from her history of always picking the wrong one. Love at first sight is as much a myth as is true love. Then she meets someone who just might change everything she believes about love. He's perfect…except for his insistence that he was killed over two hundred and seventy years ago!
Two broken hearts, two lonely souls. Both just might have a chance at happiness if Iain can only keep Sallie alive.
    Available exclusively at Amazon in eBook – at your favorite retailers in print!
AMAZON [for kindle]                            I WANT a PAPERBACK COPY!
~ THE CURRENT SERIES ~
Click on either photo to learn more about the books in that Series ~
~ WHAT'S  NEW ~
FEBRUARY 2017
Aaaaaaannnnnnnnd….. Time just keeps marching on and I'm STILL not finished with this book.  Wow.  I feel like I'm going for a new record.   And not in a good way!  Still… I'm making progress, even if I am sort of split in two directions.  What?  Yeah…working on TWO at once now.  That's the thing I've learned about me and writing.  One question I always get is the one about my writing process.  Well, for the record, I've learned that my writing process is always in flux.  It's different with every, single book.  And right now that process is that I'm still slogging my way through the contemporary [which feels so emotional and difficult to write] and beginning the time travel that's calling my name.  Grass is always greener on the other side of the fence?  Probably.  But, I've learned to stop fighting my "process" and it's ever-evolving nature.  If I get two books out of this go-round, who am I to question the Muse???  🙂
Needless to say, SECOND CHANCE AT LOVE is running behind, but it is still progressing.  As a matter of fact, I'll be back in Liz and Ryan's world after I finish updating this site.
SECOND CHANCE AT LOVE is the second in the small-town, contemporary Chance, Colorado series.  It felt like coming home when I began on Liz and Ryan's book, revisiting all the folks at the Hand of Chance Coffee Emporium.  If you haven't read the first in the series, TAKE A CHANCE, you might want to snag yourself a copy now so you can be ready for all the twists and turns Liz and Ryan will be experiencing on their path to finding a Happy Ever After!  Look for SECOND CHANCE AT LOVE to be available in late Spring 2017.
If you haven't gotten your very own copy of  TAKE A CHANCE,   you can get one here:
AMAZON [for kindle]             iBooks                B&N [for Nook]                KOBO           I WANT a PAPERBACK COPY!
After that?  Then I go on to the third in the Magic of Time series, though as I said at the beginning of this update, I've already begun working on this one.  I've drawn from earlier books to find both my hero and heroine for this one…secondary characters from the Daughters f the Glen series who just won't quit talking to me!!  😉  Tentative title for this one is TIME TO SPARE.  I anticipate that book will be available in mid 2017… think late Summer/early Fall.  Since I'll be doing another Magic of Time book right after this one, that will mean at least TWO new books next year!  As we get closer, I'll tell you more…
In the meantime,  if you haven't already, you can get your copy of ANYWHERE IN TIME now at the following links:
My goals – as usual! –  include updates to this website.  Yes, I know there are missing pages…sigh.   I am the very definition of S-L-O-W when it comes to adding pages.  Nevertheless, I will do my best to fix the links and pages in the next few months.  I have a few ideas for changes I want to make [I always want to make changes!] but I keep putting my time into writing the next book rather than sprucing up the website.  One day I'll get to it all!  [What's the old saying that fits here?  If you believe that, I've got some swampland for sale….]  I will keep trying, though!
I'm getting lots of questions about more Daughters of the Glen books. This new series,  Magic of Time, IS a continuation of the Daughters books. Characters from the first in the Magic of Time series, ALL THE TIME YOU NEED, show up in  ANYWHERE IN TIME as well as characters from Daughters of the Glen.  Remember Cate Coryell from THIRTY NIGHTS? Well, you get to meet her parents in ANYWHERE IN TIME, so, as I said, it's all connected [and getting MORE connected with each book!]. There are other favorites you'll see in this one, too… a young version of Ian from HIGHLAND GUARDIAN, an early glimpse of Dallyn and Darnee…
As always, you can find me on Facebook at my AUTHOR PAGE . Stop by and join in the conversations. And, if you'd like to chat more in depth about the books or the characters – or what others are reading while they're waiting for the next book – there's a special Facebook Group for readers of my time travel books and we'd love to have you join us there. I do check in there regularly to keep the members up to date on what's happening or just to visit and I'm always open to answering any question you have about the books or the characters. You can find the group here if you're interested in joining: MAGIC OF TIME READERS GROUP!!
That's it for now!
~ Melissa