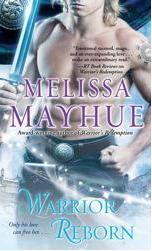 Release Date:  October 30, 2012
ISBN-13:  978-1-4516-4088-5
Excerpt
Only his love can free her.
Former special ops agent CHASE NOBLE has been searching his whole life for the place where he belongs. As a descendant of Fae, he senses fate has more in store for him. And he will not rest until he discovers what his true purpose is. When he travels back in time to medieval Scotland, he discovers his mission is to save a beautiful woman — the same woman he is destined to be with.
CHRISTIANA MacDOWYLT possesses the gift of foresight. Prisoner of her evil half brother, Christiana has visions that show her that only one warrior can rescue her — a man she is mysteriously drawn to. The only problem is, he's in the future. Now she must rely on the magic of a Faerie to transport him to the past. And when Christiana finally meets Chase, the sparks between them set off a smoldering desire. But will the magic that brought them together also tear them apart?