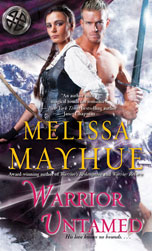 Warrior Series – Book Four
Release Date:  November 26, 2013
ISBN-13:
Excerpt
BRIDGET MacCULLOCH is a fearless warrior driven to seek revenge for her father's death.  When the brash Norseman who saved her life rebuffs Bridget's help in defeating her most loathsome foe, she refuses to surrender her quest.  Her need for vengeance is equaled only by her growing attraction to the mighty Halldor.
HALLDOR O'DONAR must find the missing Sword of the Ancients.  Only with this weapon can he destroy the monster that has entered the Mortal's world and is determined to bring about its very downfall.  Though he's forbidden Bridget from accompanying him on his mission, he soon discovers the stubborn — yet sinfully irresistible — warrior princess heeds no one but herself.
Now Brie and Hall must learn to trust each other if they're to defeat their enemies or risk everything as they surrender to a desire that has the power to conquer all.